Nationally Recognized Orthopedic Surgeon Treating Shoulder & Elbow Conditions at Several Office Locations in the Greater Pittsburgh, PA, Area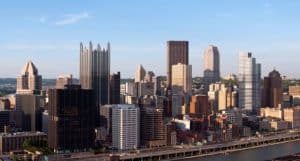 Christopher C. Schmidt, M.D., is a board-certified, fellowship-trained orthopedic surgeon who specializes in treating conditions affecting the shoulder or elbow, including rotator cuff tears, shoulder arthritis, distal biceps tendon ruptures, and elbow arthritis. His clinical focus is on arthroscopy, joint replacement, tendon and ligament repair, nerve repair, and fracture care. To remain firmly positioned at the top of his field, Dr. Schmidt continually hones his skills by performing extensive research and participating in continuing medical education programs. Practicing in the Pittsburgh, Pennsylvania, region since 1996, he offers patients convenient access to an unparalleled level of expertise.
Three Convenient Locations
Dr. Schmidt practices at three offices in the greater Pittsburgh area:
A Stellar Reputation Based on Outstanding Credentials
As an orthopedic surgeon who is widely respected by both his patients and his peers, Dr. Schmidt was elected to membership of the American Shoulder and Elbow Surgeons (ASES), an association of approximately 350 select orthopedic surgeons who specialize in performing shoulder and elbow procedures. Twice nominated for the prestigious Charles S. Neer Award given by the ASES, he has received national recognition for his significant contributions to the understanding, treatment, and prevention of shoulder and elbow injuries.
Having earned a reputation as a true expert among experts, Dr. Schmidt regularly receives complex case referrals from other surgeons. And, while he is well-known for his outstanding skills and experience as an orthopedic surgeon, he is equally well-known for his compassionate bedside manner and patient-focused approach to care, as evidenced by his selection as one of Pennsylvania's Favorite Shoulder Surgeons (Patients' Choice). For these reasons and others, many patients feel confident entrusting him with their care.
If you'd like to consult with Dr. Schmidt at one of his Pittsburgh-area offices, call (877) 471-0935 to request an appointment today.